From the Tyto Games Staff:
The Tyto Games folks– who made ELEMENTOS last year– have just launched a Kickstarter for "Final Act," a game of abstract tank combat.
Designed by an actual tank commander, the game uses dials to easily program simultaneous movement.
Each player commands 7 tanks (all wooden pieces!) and wants to either eliminate the opposition or get a tank to the other side of the map.
Games take about an hour. Since terrain and tank set-up is variable, no two games are likely to be alike.
Recently launched on Kickstarter.
The rules are posted on the Kickstarter campaign page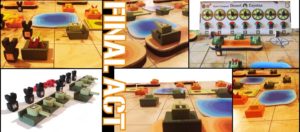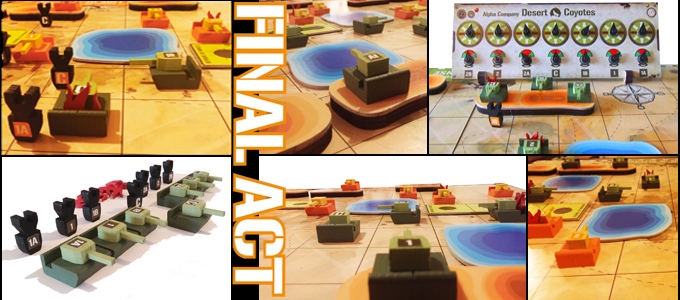 —————————————————————–
Side note: What is ELEMENTOS? (Successfully Funded on Kickstarter)
o ELEMENTOS is carefully designed and made of real wood dyed by silk-screening. The basic concept of ELEMENTOS is using the cycle of nature's elements, fire, water and wood to overcome your opponent by removing their elements from the board and advancing the wand.
What is ELEMENTOS's based on?
o While the invention process did not start off like that, one cannot ignore the strong tie to the universal folk game of Rock/Paper/Scissors. We like to refer to ELEMENTOS as Rock/Paper/Scissors in a Checkers kind of way.