Review by Mitch Freedman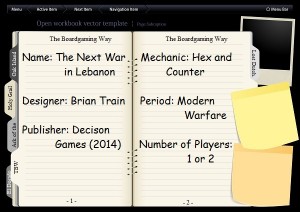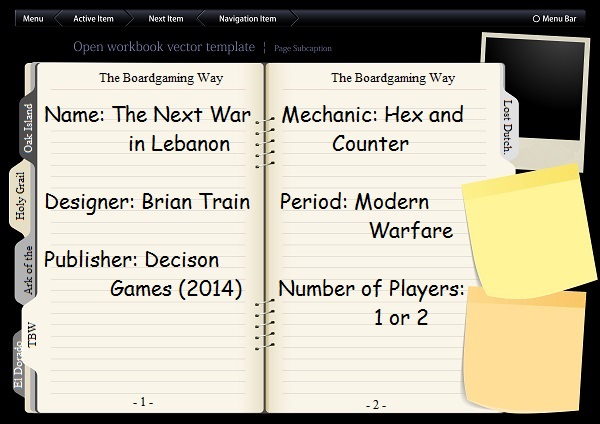 A friend of mine, who knows my interest in the Middle East conflicts and my joy in playing "what if" games (we play a Very British Civil War a lot) recently gave me a copy of Next War in Lebanon.
I opened it, glanced at the counters and the map, read the rules twice and thought – gee, this looks interesting.
Little did I realize the adventure that little gift would take me on.
First things first – this is a pretty interesting little game. It does a lot with cardboard counters and a paper map simply by printing very large hexes that can each hold about as many counters as either side gets in the entire game. No zones of control, no counting terrain costs in order to move units.
——————————————————
—————————————————–
Its been done before, but here it works very well.
The Next War in Lebanon was designed to show what could happen if Israel launched a second invasion of Lebanon with the goal of uprooting Hezbollah – a repeat of its 2006 attack but on a much larger scale.
The game's military units – infantry, vehicles and rockets – are two-sided, but the reverse side isn't just a weakened version of the full-strength side.  Troops on one side are concentrated for battle, on the other they are dispersed for defense.
Combat is automatic when opposing forces are in the same hex, but units that are disbursed can not be moved from one hex to another, while units which are concentrated can move but are not permitted to attack dispersed enemy units. There are some exceptions such as Israeli special operations attacks.
This all plays out in about two dozen areas – mostly hexes – which have just three categories of terrain: urban (significant cities), populated (many small villages and roads) and remote (poor roads, little population). Both sides (the Israelis and assorted Hezbollah, Syrian and Iranian forces) each get sanctuary hexes which the other side can not enter with land-based troops.
There is no limit to the number of stacks in a hex. But, there is definitely a limit on the actions that both side can take.
And, that turns out to be the most interesting part of the game.
Actions of any kind – movement, attack, searching or hiding units, reorganization, air strikes – take place after playing an appropriate command chit (J-1 to J-4) is played for the units involved.  An optional advanced rule gives additional chits for planning and communications.
Each side has 24 chits to choose from, but they can only keep a few in their hand at any one time. That number is determined by the army's command and control rating. The side with the higher rating also moves first.
As the game goes on, the Joint Operations chits become more important. A J-1 administrative chit can flip a disrupted unit (or re-load an Arab missile unit) while a J-2 intelligence chit lets you examine the units in an enemy stack or try and avoid an enemy attack.
The J-3 chits let you move a unit that is in combat mode, bring in reinforcements or spring an ambush. The moving player can also eliminate any possibility of an ambush if he plays two J-3 chits at the start of movement.
And, there are lots of other things to do with your chits. Too bad you can only do one of them. Welcome to cat-and-mouse land.
To make things even more exciting, combat actions may also lead to a cascading effect – one of more than a dozen different events, from Christiane Amanpour visiting the battlefield that causes the Israeli player to either gain or lose one of their action chits to the United Nations imposing a cease-fire, which can end the game.
Now for the adventure part.
The Next War in Lebanon is actually a re-design by Brian Train of his "Third Lebanon War," which was published in 2011. Or, from his perspective, its a re-design of his re-design, with several rules changes made by the publisher after he submitted it.  In his on-line remarks, he makes it very clear that he does not approve of the changes, but can do nothing about them.
There were also changes in the number of game counters and their design and in the map (it went from all irregular areas to most areas fitting into a hex pattern), none of which pleased him..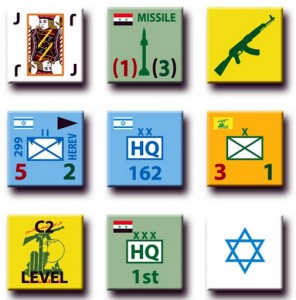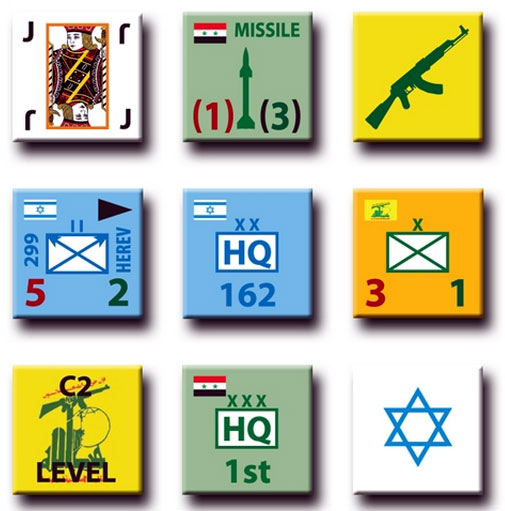 Train points out he, like most other designers, lost control of the game once he submitted it. He did not have the final word on how his game was edited before it was published. So, he put his original redesign on line, letting people decide for themselves which version they like best.
In part of a conversation Train posted on his web site, a man states clearly that Train was shown the changes before the game was published, and that they were made by the company to simplify the game a bit and give it broader appeal.
Now when an individual is in conflict with a corporation, it will look a bit one-sided.
And, there is no small irony in this situation. Train has published more than two dozen games and enjoys looking at unequal forces in conflict – asymmetric situations where strong efforts to restore civil order can lead to an open rebellion, or where a seemingly weak and scattered force can overthrow an entrenched government.
Oddly, I can't find a game by him on the French Revolution. I would love to see his take on the fall of Louis XVI.
But, back to Lebanon.  I thought at first I would enjoy the game because it did a nice job in capturing part of the uneven Mideast conflict. And, I got to argue that his game gives Hezbollah a little too much power to avoid Israeli attacks, although reality may be proving me wrong.
Then, while I was still trying to figure out the best mix of command chits for the opposing sides,  the game itself changed before my eyes, turning from a  "what if" projection about a likely future conflict into a  fantasy game.
Why fantasy?  Because I can't see a broken Syria deciding to send armed troops into Lebanon to support rebels who would likely turn those guns back on the Syrian government, such as it is. Or on the people fighting alongside them in the rag-tag coalition against the Islamic State.
Now all I have to do is read the newspapers for a few months and it may turn back into a "what if" game again. Or,  maybe, into reality.
Meanwhile, I can compare the strength and organization of Train's re-designed game to the new version that ran in Modern War 13.  Or, if I want, to his original game.
I have to admit that, before my friend Ed gave me his copy of Next War in Lebanon, I was unfamiliar with Train. Or, more precisely, I may have played some of his games, but didn't pay much attention to who had designed them.
That's a situation that I have to correct. His work is refreshing and interesting, which really are two different things. And, I expect, I will have a lot of fun exploring.
It seems I may be starting a new adventure wrapped in a mystery wrapped in an on-line debate….nah, no one will ever pick that line up and quote me. Of that, at least, we can be sure.
Game Resources: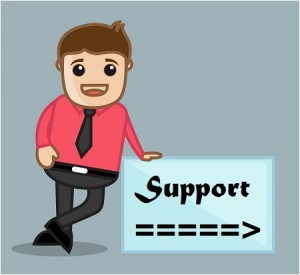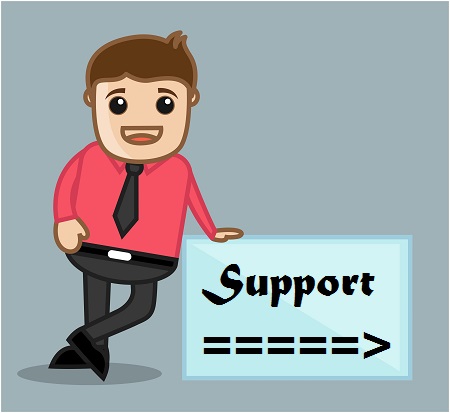 Original Rules to "The Next War in Lebanon"