By MICHAEL LEDEEN
There's a reason why Eisenhower and his generals were passionate about this most cerebral pastime.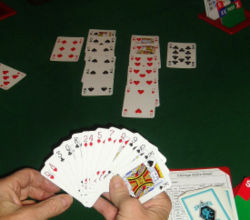 On the night of Nov. 7, 1942, as allied forces in Operation Torch headed for the North African coast, commanding Gen. Dwight Eisenhower waited anxiously. It was foggy, and news of the invasion was slow to arrive. To pass the time, Ike and three associates played bridge.
The game was an important part of Ike's life—throughout the war, in the White House and in retirement. In those years many American leaders were passionate bridge players…..
Read More at The Wall Street Journal