Greetings,
Just a quick newsgram this time to catch you up on the latest from Against the Odds.
This month marks the 100th anniversary of the start of the Somme Campaign in 1916 in WW1. Our game, The Big Push, by Roger Nord took a good look at those grinding battles. While sadly no longer in print, it is none the less the focus of a special promotion all this month that may interest you! Curious? More info on that further below.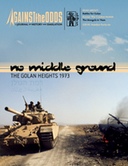 In other news, ATO #46 with No Middle Ground inside has begun to mail. There's still a few days left to slip in under the wire and get this issue as part of your subscription or renewal at the greatly reduced price.
Most wargames come to us with a comfortable distance in time, covering events that happened long ago. We can explore the details in history books and commemorate the decades or even centuries that have passed since "the end of the war".
There is no such comfortable passage of time in the Arab Israeli conflict, which sometimes feels like one long campaign, with pauses. We see as much in the newspaper as we do in history books.
So it is that ATO #46 is announced at a time when both Israelis and Syrians are at war, but not so much with each other.

No Middle Ground, by Paul Rohrbaugh, covers the most decisive actions on the northern front of the 1973 Arab-Israeli Conflict.
There are three scenarios, from the opening Syrian attack to retake Golan, to the daring Israeli counter-offensive that drove into the heart of Syria and took the war to the doorsteps of Damascus. Plus a Grand Campaign game that covers the entire campaign for the Golan.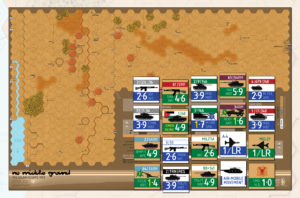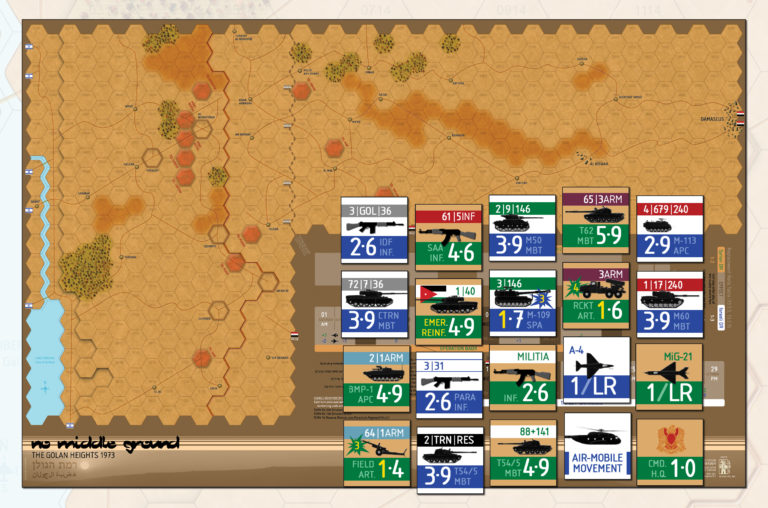 Each copy of No Middle Ground includes a 22" by 34" map and a full sheet of colorful die-cut counters that represent brigades from the Syrian and Arab Allies' armed forces and the battalions of the Israeli Defense Force. Air units on both sides are potent weapons but must dodge the enemy's AAA and SAMs. Map hexes are 4 kilometers across and each turn represents 8 hours. Plus a well illustrated rulebook and charts, complete with designer's notes and historical commentary.
Rules include, among others, Time-on-Target artillery barrages, Combined-Arms tactics, Improved Positions, Minefields, Airborne and Commando assaults, as well as optional units that could have been deployed by both sides. The interactive, chit-pull formation activation recreates the chaos of battle while still allowing players to deploy and fight their armies.
This game will test the resolve and skills of game novices and veterans alike. Although designed for two players, solitaire play is quite easy. Click here to subscribe or resubscribe now!

add to the fun…
Make the ATO 2015 Annual part of your subscription!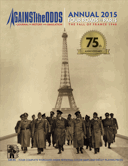 Shortly after Poland was conquered in 1939, Hitler begin urging an immediate attack in the West. The original plans were uninspiring and his generals feared an attritional stalemate. Over the winter the Germans keep taking the measure of their opponents and hit upon a plan was that inspired, risky, and utterly decisive. Ironic of Hitler to assume his remarkable success was simply the new template for all future campaigns. His eyes turned east….
But why, exactly, did France fall? This ATO Annual edition features four top designers all tasked with re-examining the 1940 campaign and answering that very question. They've each settled on a single overriding theme to focus on. Yes, here is an issue not just featuring a game or two, but four complete simulations that provide hours and hours of challenging play and comparison. Don't miss it!
Four Roads to Paris inside the ATO 2015 Annual offers hours of challenging play and comparison. And as always, the Annual features an "extra-size" magazine, with an in-depth look at the history behind the games, plus other articles. Make yourself the proud owner of this challenging look at the campaign that shocked the West.
And about that Special Offer…
It's Time Once More for THE BIG PUSH – A Long Out of Print Game Now Available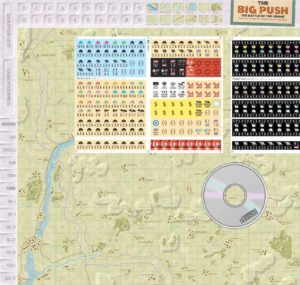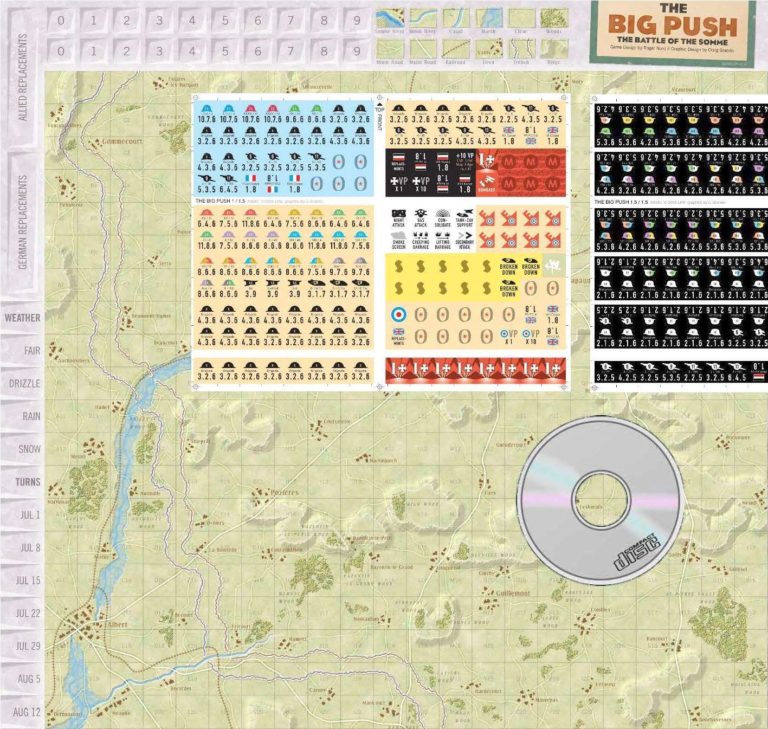 Way back in ATO #11, Roger Nord's game on the Somme battles, The Big Push, caused quite a few raised eyebrows. "Squares instead of hexes" was fairly radical at the time…but it worked. So much about the game does…except getting a copy. It has been out of print for years.
We recently found a stash of extra counter sheets and maps to The Big Push. There are no magazines left to go with them—darn!—but folks could still have a complete game. So we took some time to update the rules and charts with a brand new second edition! But we struggled to decide how to price such an offer…
We decided "free" was the best way to go.
July marks the 100th Anniversary of the beginning of the Somme Campaign. To commemorate that shocking battle, with ANY purchase we will give you this bundle for free. You get:
The Big Push counters (over 250 full color, mounted and die-cut pieces)
The Big Push map (full color 22″ x 34″ playing surface)
The new updated rules and charts on a CD
Just add "The Big Push" or "TBP" to the comments field when you check out, to let us know that you really want this (because we have a limited number) and we'll pack it with your order.
This offer includes your trying out Turning Point Simulations games as well, either directly from the TPS web site or as part of our Pick 3 special offer.
OK, that's the news. Thanks for reading!
Against the Odds Magazine
Please visit us at www.ATOMagazine.com or find us on Facebook at www.facebook.com/ATOMagazine