By Paul Comben
Designer: Eduardo Rojas
Publisher: Waddingtons Games (1962)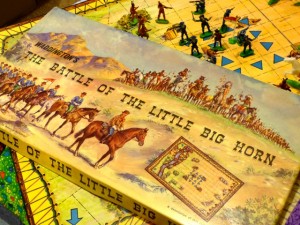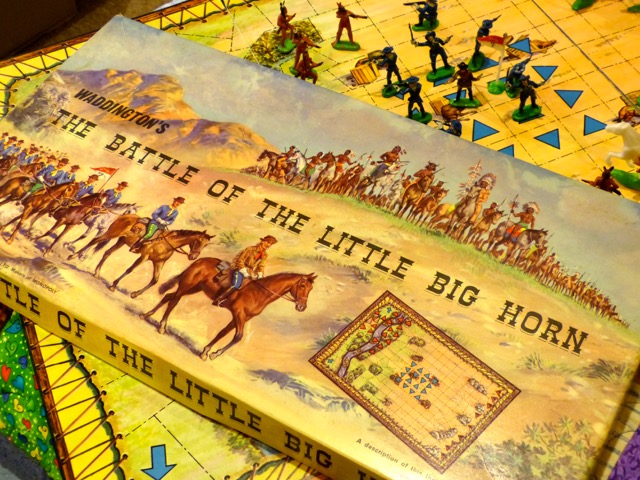 So who remembers this one? For no small amount of time I have told people that my first wargames were Avalon Hill's Gettysburg and 1914 – a funky mixture of the bloodily simple and simply bloody impossible.  But thinking about it, that was not really true. A few years earlier (four) I had got this little gem as one of my festive presents, and frankly, given how it looked and how it worked, it has every right to be called the first wargame of any description that came into my possession.
Christmas 1968 was a good one – alongside this game were two others poked into my spare pillowcase, those being Cluedo (Clue), and Mousetrap. I also had my Beano and Dandy comic annuals, a present from each pairing of grandparents, aunts and uncles…and that was it. Total spend probably under £10, and I was thrilled to bits. And yes, I will pause to reflect on the vast difference between what was spent on my generation, and what comes out of people's wallets now. It is not simply a matter of saying there were no consoles or computers back then – I guarantee that if you had visited a shop like Hamley's of Regent Street in 1968, you could have spent £50 or £100 (worth many multiples more today) without any real effort at all…and then popped down to Piccadilly Circus to cast a scornful look at some gathering of the flopped out with flowers in their hair.
I must admit I am getting on a bit, and kids today seem but fleetingly interested in their latest must-haves, whereas I never really got bored with my games – I just lost the bits.  The Battle of the Little Bighorn went with me to school, got played at this or that friend's house, for no very clear reason accompanied me to Aunty this and Uncle that on a Sunday visit…and then, when the time was right, I lost the bits.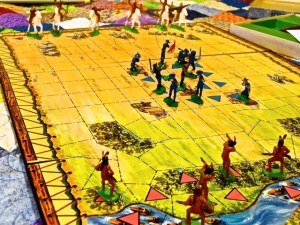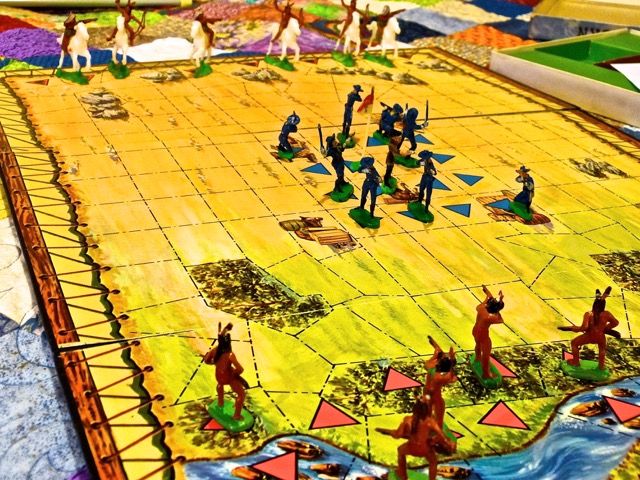 So what of the game itself? In 1968 it probably cost around thirty bob (£1.50), and I am pretty certain my mum bought it from a nearby newsagents. That is where I saw it first, propped on a high shelf overlooking the cigarettes and cough drops. In itself, that tells something of the story of those times. There were toy shops, and other shops that sold a few toys and games (like post offices and newsagents), but I seriously doubt whether there was such a thing in England as a dedicated games shop – not unless you count plush retailers selling backgammon, bridge and chess sets, other indoor novelties…and blow football. Shops brimming over with all kinds of imported American game goodies were still some years away, and by and large, the only thing that came out of Europe on a regular basis was tinned tomatoes.
I played my very first Little Bighorn game on Christmas day afternoon – prevailing on my dad to take part instead of dozing off as soon as HM the Queen had finished her speech. I liked the game, but it was not quite what I had expected. Full of wild expectation, I thought I would open the box and see hundreds of braves and dozens of cavalrymen ready to be set up. In fact, there were just over twenty, plus a flag. On the other hand, anyone armed with a rifle or pistol had a range and rolled diced to hit, with results modified by terrain. Braves with tomahawks had to get in closer, and the flag did not move unless someone carried it. The tribes won by killing Custer and his officers or grabbing hold of his pennant (nasty), and the US guys could win by killing all the chief figures or getting one man and the flag off the board via either one of the two blue arrows.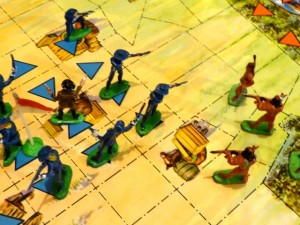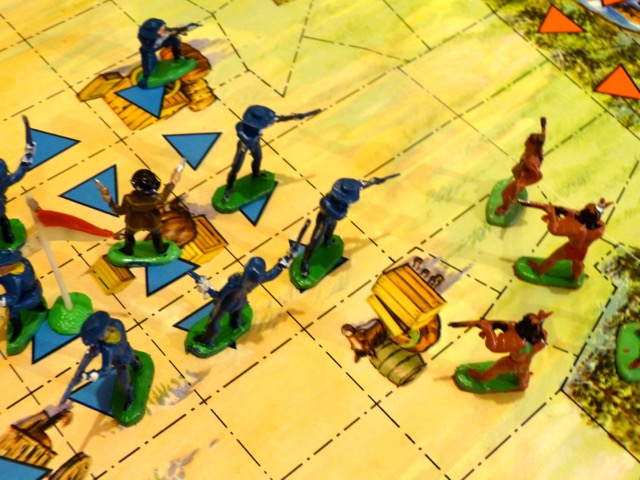 Component-wise, I would have to be honest and say that I had far better soldiers of all types in the sets I had had bought for me in the past, but these did a job and were capable of actually standing up once you got the flash off their bases. The board was nice, with the likeness of being painted onto a stretched hide. But the real glory was the box art; for once I saw that for the first time, I was absolutely hooked. But I was very young, and alas for lost youth, that sort of magic, the waiting and wanting, does not happen any more.
As for this copy, I found this a couple of years ago. I got it not to play, but just to help rebuild some memories – Patrick Troughton's doctor fighting the Yeti and the Cybermen on the streets of London; Manchester United winning the European Cup for the first time; the "Watersplash" Rugby League Final; my days in the cubs; a holiday at Weymouth, getting excited about Apollo going round the Moon, and seeing Oliver! with my nan and my cousin, Debbie. Not a bad year, all told.
Paul Comben