By Fred Manzo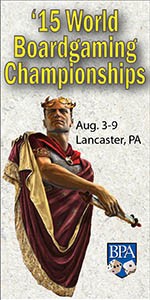 The World Boardgaming Championships (WBC) are almost here, with the main convention scheduled to run from August 3rd through August 9th. However, there is a "pre-convention" that starts on August 1st (for those who want to sign up for a three or four day long tournament at the convention but not miss the convention, so to speak).
WBC is known for having a number of publishers present and for demo-ing and play-testing all sorts of new games. I'm sure GMT will be represented (as I'm part of their representation) and companies like Academy Games, Decision Games, Lost Battalion Games, Z-Man Games and Rio Grande Games are always there, too.
At this stage WBC is about 50 percent Euros and 50 percent wargames, which is a fine mix. I'd say there are usually about 2,000 or 2,500 people in attendance plus it has a good smaller vendors room. Although its not as big as some it fits the purpose. What I especially like about WBC is the great mix of gaming opportunities available to those who attend.
And all the usual suspects from Long Island will be there, also. For example, Hermann Luttmann and I will be showing GMT's Hammerin' Sickles and At Any Cost: Metz 1870." So come on by.
Especially as this is the final year WBC will be in Lancaster. Next year it is moving to a convention center an hour+ outside of Pittsburgh and I'm not certain any of us will attend. So this may be my last year there. It just seems a bit inconvenient for me. You can't fly into anywhere near the new resort and it's a 7 hour drive from here. The best we can do is flying into Pittsburgh, rent a car and drive for over an hour. That seems a little much, but we may change our minds as WBC is one of the great conventions.
It really will be too bad if this is our last year. But who knows.
Resources:
Boardgame Players Association Home Page