By Donald Greenwood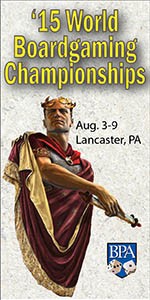 Yes, it's been a year since you last attended WBC. This year marks our tenth in Dutch country and our last for the foreseeable future. In 2016, we move to Seven Springs Mountain Resort in western PA. So, come back this summer to celebrate our Lancaster swan song with your last chance to combine your gaming passion with a visit to Amish country.
• Our rates remain the same for the 17th straight year – still boasting the lowest prices of any major convention – even before considering the free parking and lack of event fees!. However, Pre-registration ends earlier on June 30th and walk-on rates HAVE increased so don't get caught unaware. Pre-register now!
• Attendance has increased but so has our space. The Expo Center has been added to double Open Gaming tables and the bigger-than-ever Auction/Auction Store has been moved to Lampeter Hall.
• The WBC library is bigger than ever – and reinforced with the latest games.
But it's still all available for the same low daily admission charged in the previous century. Although the Lancaster Host is long since sold out for WBC week, the Continental Inn, conveniently located across the street – and for the first time more accessible behind a newly installed traffic light, still has rooms available at our special group rate. See the details at https://www.boardgamers.org/hotellan.htm.
Are you tired of gaming conventions where any gathering of four players masquerades as a tournament? Sick of standing in lines to buy event tickets for a convention that you've already paid for? Do you go to a convention to actually play games? If so, then its way past time you turned to the better alternative. WBC is unique and unlike any other game convention you've ever experienced. The World Boardgaming Championships has always offered the best tournament boardgaming experience to be had on the planet. But it's now so much more! This conference concentrates solely on boardgames and you'll be hard pressed to find more like-minded players anywhere!
• Wargames are alive and well at WBC.
• Euros? The largest Euro tournaments invariably occur at WBC. 25 events drew triple-digit participation last year.
• Rail Games – nobody lays more track than WBC.
• Sports? – Only WBC has them
• Open Gaming – It is said that WBC's tournament structure is the best organized Open Gaming on Earth. But if that's not for you we still have conventional Open Gaming opportunities in abundance. Heck, we even have Scheduled Open Gaming opportunities with reserved tables and signage for players wanted.
• Tradition – Only WBC treasures and archives its past for all the world to see.
The Tuesday Auction and Auction Store offers one of the best treasure troves on the planet for both rare out-of-print jewels and bargains alike. The 13,000 sq. ft tiered dinner theatre of the Lancaster Showroom is dedicated exclusively to Open Gaming from Monday through Sunday – with an expanded WBC Game Library as the focal point of the convention.
You pay only one, all-inclusive admission. There are no separate event tickets to buy, regardless of whether or not you attend the auction or seminars or how many tournaments or games you play, demos you attend, or Vendors you patronize. If competition floats your boat, or learning new games at any of the 150+ game demonstrations, the best still congregate annually at WBC where tournament play is our raison d'être. Pre-Cons featuring 22 classics start the preceding weekend to make the trip worthwhile for our many far-flung visitors … nine continuous days of gaming. Valhalla for gamers … and only in Lancaster, PA. WBC remains a unique experience which can only be had once a year … isn't it time you rediscovered WBC? Check out the schedule and make your reservation today.
Even if you're only stopping by for a day, be sure to pre-register to save $20 on the walk-in rate at the door. Paypal payments (https://www.paypal.com) should be sent to paypal@boardgamers.org, listing complete name, address, and items purchased in the message section. Hurry! Pre-registration ends June 30th. Need a last minute roommate or ride? Check out the pre-reg list at https://www.boardgamers.org/wbc/prereg.htm. Explore our website for more details on the best week in gaming.
Donald Greenwood CD
cd@boardgamers.org
www.boardgamers.org