By Fred Manzo 
Bob DeMaio and the Long Island Scale Model Society hosted a Scale Model Show at The American Airpower Museum in Farmingdale, New York this weekend (Sorry, no Zeds seem to have shown up).  One of the really nice things about this show was that it was put on right among full scale examples of the models being presented. So, for example, you could judge models of P-40 or B-24's against the real thing only feet away. The museum is also famous for having cut away example of many of its exhibits, so with the help of a museum employee, you can actually walk through, say, a B-24 or sit in the cockpit of a World War II fighter or bomber. Very cool.
Although I took a good 4 dozen photos, here are only some of the more interesting ones.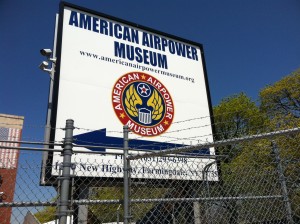 One of the many nice features of The American Airpower Museum is that it just doesn't have the feel of a typical "Museum." That is, the exhibits aren't all under glass or remote. And so you are free to walk up to them, touch them and sometimes even get inside  them. And the few barricades they do have project the look of temporary fencing thrown up at a real airport to stop kids from getting into trouble on "Bring your children to work day."
Now, one of the ways this museum presents such a look is that it IS located at a real, working airport. But still, things from the past where presented in such an informal and friendly manner that you got the feeling you've been here before (at least you do if you are an Air Force veteran) . For example, when I went looking for something to drink while examining the aircraft I headed for the snack bar, which turned out to be "manned" by a manikin and decorated in a 1940's style. The presentation was so convincing I was stopped at its doorway by a couple of attendees who informed me it was only a historic exhibition set in 1943 and didn't actually sell anything, no matter what the sign said. Now, that was only half true. Yes, the manikin and the 40's snack bar were an exhibit but the coke and snack machines also present were absolutely modern and took my dollar bills just fine.
Bob and his gang produced a remarkable show that was a pleasure to attend.