By Fred Manzo 
(Click to enlarge)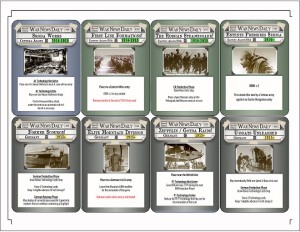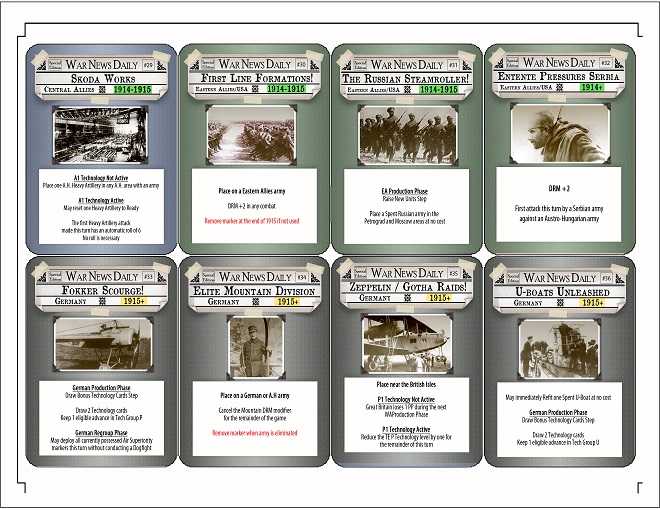 Here is a sample of "The Lamps Are Going Out: World War I" event cards.
"Lamps" is a game that Hermann Luttmann has been developing and I've been playtesting for some time now. But the end is in sight. We'll be giving it one more playtest at FATDOG Friday morning and then hand it off to a group of blind play-testers from Manhattan. If all goes well it should then be in Compass Games' hands shortly after that and in publication some time early next year. It's been a long haul.
We've been working on this game, off and on, now for years. But the interesting thing is that I never get tired of playing it. Perhaps that has something to do with it having so many nice features, such as it being able to cover all of World War I in an evening, while not giving it a superficial treatment. Its got technology, supply/economics, politics and an elegant combat system (with nice tactical touches).
I've even developed different strategies for playing the Western Allies, the Russians and the Central Powers. But I can't seem to make up my mind which is my favorite. So I'd guess that is a good sign in itself.
I'd describe "Lamps" not as a Card Driven Game so much as a Card Assisted Game and I think the game playing public will be very pleased with the final results.
Now, while the usual suspects won't have a hands-on-experience Friday, we'll probably be partnering up with newbies and seeing what develops. So while it's normally a two to four player game, we'll try it this time with 6 to 8 people: Four playing and four kibitzing and see what happens.
Game Resources: