By Fred W. Manzo – Tuesday, June 29, 2010
Right off let me say ORIGINS game Fair was a blast. It had an awful lot of good things going on: board gaming, collectible card gaming, miniatures, historical and political lectures, Live Action Role Playing (LARP) including some type of Pikachu tournament (which we mistakenly took for people in yellow squirrel costumes), Euro gaming, exhibitors, auctions, tournaments and open gaming. Unfortunately, what it didn't have very much of was old fashioned board wargaming and this at a convention whose name commemorated the fact that its first location was in Baltimore, where wargaming ORIGINATED.

Say the gate this year was 12,000 and there certainly seemed to be at least as many people in attendance this year as last. Fine. But even with that number I'd be surprised if more than 120 people were there at any one time who considered themselves board wargamers. And that includes Axis and Allies players. After looking around one did begin to wonder if the world really needs more wheat growing, rice growing, tea growing, sheep raising, cattle raising , farm building, town building, city building, wall building, pyramid building, cathedral building, railroad building, rock collecting and wood collecting games, but they were there.
And, yes, there was a large area with the name "War Room" on it and there were wargame designers present. Vance von Borries came and so did Dave Powell. But the sad fact is that the overwhelming majority of the people attending this year were Euro gamers. Still, if you went looking for a war game you'd find one. For example, while GMT, Avalanche Press, Critical Hit were missing, Decision Games, MMP, Academy Games, Crazy Egor and some small re-sellers showed up. In fact, I managed to see Columbia Games new Julius Caesar block game and samples of Decision Games upcoming Folio line, including their Bastogne and Battle of the Bulge games, which will be mailed out in a few weeks as the rules need to be printed. (They went for $19.95 each.)
And I'd have to say the exhibition hall seemed full or at least it had more booths occupied then last year and even the company selling fine gaming tables returned (it had individual items for sale in the $1,000 to $12,000 price range – without chairs). But, then one of the booths specialized in large men's underwear (I kid you not). So as far as gaming in general goes, things have stabilized, but as far as board wargaming at this particular convention goes, it was strictly, "look out below."
Infrastructure
As usual, the Columbus Area Boardgaming Society (CABS) did a great job running an open gaming area. Their free games (Euros, of course), free food and free access to their library all for the price of a $16 ribbon was a crowd pleaser. I'd guess they easily tripled their attendance from last year. Although, it might have also helped that their War Room / Board Room was moved to a venue with 1/3 of a main hall instead of the 2 or 3 upstairs rooms they had previously.
Of course, organizational acumen was never one of Origins' stronger points and this year was no exception. While their pre-registration system was better than last year, when it was a mark of determination to have even claimed you once navigated it, this year's problem was that you were never really sure you pre-register at all. The main problem being that after hitting the "Submit" button nothing much happened, which left you wondering "Did it work? Am I registered? What's the story?" The solution I finally used was to leave the system, come back a few minutes later and request a status report.
While such things have become something of a tradition at Origins, its saving grace is that the staff (too few and frazzled, but there) eventually straightens things out.
Games
To give you something of the flavor of what it's like to be at Origins our small group played the following games:
Junta: always great fun.
Hannibal: Rome vs. Carthage: multiple times. A classic.
Fires at Midway: a new card and dice game from Clash of Arms that looked interesting from the little I got to see of it waiting around the Columbus Airport on the way home. We played its Wake Island scenario.
Conflict of Heroes: a fine game system in the Squad Leader tradition. By the way, Uwe Eickert's Academy Games – which is now under the Mayfair Games corporate umbrella – won the "Best Historical Board Game" for 2010 with its Storms of Steel! Kursk 1943. Its first Conflict of Heroes game – Awakening the Bear! Russia 1941-1942 – turned out to be both an award winner in 2009 and the most popular wargame by sales in the last 10 years. As they also have Price of Honour – Poland 1939 and an upcoming game on Gettysburg, I'd say they are the odds on favorite to win again in 2011. Incidentally, the rules update for the Conflict of Heroes system has made good rules even better, so I'd advise also using them to play Awakening the Bear.
War at Sea: the Axis and Allies miniatures naval game, which has nothing to do with the Axis and Allies board game beyond the fact that they are both about World War II. I didn't try it myself, but I do like their land warfare miniatures version. However, I did hear complaints that its scale really didn't fit the size of a typical gamer's table, as each carrier is about 5 inches in length.
Castle Panic: a Pandemic style cooperative board game where players battle the system to defend a castle and wall structure against Orcs and Troll attacks. It's a good introduction to gaming.
Friedrich: a design of elegance and of surprising depth. Although it is open to charges of having somewhat gamey mechanics, as its pseudo-supply and terrain system revolves around the card suits assigned to each portion of its point-to-point 1756 map of Europe. This allows players to augment the combat strength of their forces by playing cards of the correct suit: clubs, diamonds, spades or hearts. So, for example, if Friedrich the Great is attacking in Poland with an 8 point force against say a 6 point Russian force, each player may only play the cards in their hand that agree with the suit valid for that area. The winner and the size of his victory are then determined by the combined total of his troop strength and his card play. This system does have the advantage of generating supply problems and limited intelligence questions. For instance, "did Friedrich stocked-pile enough of the correct card suit to attack properly? And even terrain problems, "will the allied defenders be able to counter-attack from adjacent heart, spade and diamonds areas and thus run him out of clubs even if he initially wins?" Or even "will the defenders take advantage of Friedrich's depleted hand to launch coordinated attacks in other clubs areas?" I also saw the follow up game Maria, which uses a similar system. But we didn't have a chance to play it.
Birds of Prey: a really detailed and innovative air game, with Tony Vale, involving nomograms. Nomograms for those interested have been defined online as "a graph consisting of three coplanar curves, each graduated for a different variable so that a straight line cutting all three curves intersects the related values of each variable."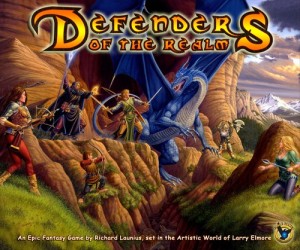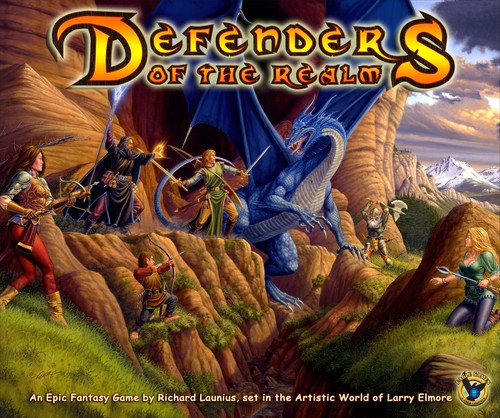 Defenders of the Realm: an elaborate cooperative fantasy game from Eagle Games, which was going for $75 including an expansion figure – the black Dragon – and a new scenario. It's a board game by Richard Lanius, the designer of Arkham Horror, that's advertised to run from 30 minutes to 2 ½ hours (you usually lose the 30 minute games and win the 2 ½ hour ones), which we somehow managed to drag out for an astonishing 5 ½ hours before simply declaring the good guys the winners. Apparently our problem was that we didn't fully know the rules and weren't aware there was a hand size limit of 10 cards per player. This one, seemingly minor, miscue produced our marathon game as we spent one entire afternoon developing truly humongous strengths by taking turns hanging out at several of the kingdom's inns in order to collect as many rumors and cards as possible. Once we had grown to super-hero strength defenders of the kingdom, we went forth en masse to defeat invading monster after monster and wave after wave of their nefarious minions. Just think of it as our bar fly strategy. The staff said we had managed to play the longest game of Defenders of the Realm in history and I'd have to believe them.
But, in so doing we had to take a pass on Nuns on the Run, a euro-style hidden movement game where each player takes on the character of a different Novice, exploring their ancient convent at night. Apparently, the object of the game, or so I've been told, is to see who can discover the most secrets scrolls, passageways etc. before the Mother Superior catches you roaming the halls after lights out. And so goes the fate of Western Civilization.
I also passed on Obama's Tax Poker Game, where instead of betting your own money you bet the tax rates of your city.
But I'd have to admit that the most buzz I saw centered around the game Founding Fathers, which only sold 20 copies a day and then only for cash. It involves managing the factions in a Constitutional Convention and seeing what type of document you can end up with. I actually saw people running to the booth in an effort to get a copy before the daily ration ran out.
Lectures
As is obvious, one of the strengths of Origins is it diversity, which shone brightly in the War College presentations, with some of us taking advantage of lectures from Tony Vale on "Dog fighting for Dummies", from Dave Powell on the battles of Fredericksburg and Chickamauga, or another on the Peloponnesian War (it covered a 27 year war plus the economic, political and military run up to it in 45 minutes), or one from Larry Bond on Iran or one from Chris Blank of the State Department on the Middle East. Although I managed to miss the lecture on Chancellorsville, which in a typical Origins snafu was described as follows in its catalogue (and in full):
"Use your wiles and poker hands to win businesses! All Ages/ 50 seats. Run by Dave Powell"
And they managed to get its start time wrong, too.
However, in the lecture on Iran it was mentioned that Clash of Arms is coming out with a game this summer on the Middle East/ Iran: Persian Incursion, which according to their web site is a game that "explores the political and military effects of an Israeli military campaign against Iran. It uses rules adapted from Harpoon 4 to resolve the military action. But its goal is to look beyond the military action by modeling the political and intelligence actions and consequences of a potential political conflict by including a card-based diplomatic/political component to the game."
Auctions
As far as the auctions were concerned, participation was light. The rumored reasons being competition from E-bay, poor advertising and a poor choice of convention dates (i.e., who wants to lug around stuff two weekends in a row, as the 4th of July is just around the corner). Regrettably, Origins didn't have a flea market to make up for it either.
Beer & Pretzels
Origins does have the good fortune to be located in the Columbus Convention center, right next door to the Hyatt Regency. So there was access to a food court, shops, a restaurant, a bar and numerous small food outlets in addition to all the great places to eat within walking distance. For example, we had lunch a few times at the North Market, which includes a dozen different food vendors, while at night we headed over to Boca di Beppo's (a southern Italian type restaurant known for its good food and over-the-top decor), although we've also tried other places in the past, including Morton's steak house. In addition, on Saturday night a river front festival, "ComFest", was put on only a few blocks away.
As for the Origins after Dark thing, in my opinion it was just an excuse to serve beer and wine in an upstairs room. Why it was even necessary is beyond me, as the hotel bar was open and there are plenty of places within walking distance to have a drink. For instance, there is the bar and burger place Barkley's just across the street and for the yuppie in you the Frog, Bear and Wild Boar is only a couple of blocks away. In any event, they made a big deal about it, even having women in Live Action Role Playing (LARP) costumes wandering around with signs, but as far as I know it was nothing.