By Harvey Mossman:
Once again we are fortunate enough to have many game publishers support FaTDoG by allowing us to buy games at incredible discounts for FaTDoG attendees. This is known as the fabulous FaTDoG Pre-sale!  These game publishers have been extremely generous throughout the years so let's try to support them! The FaTDoG pre-sale is a wonderful opportunity to buy games you have always wanted but were hesitating to purchase or games you thought you would like to try but the price just seemed a little bit out of reach. Now with the discounts, you can get them inexpensively. It's a wonderful way to add to your game library.
Here are the rules for the FaTDoG 2016 pre-sale: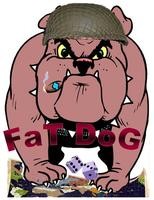 1.
You must be preregistered
and bought a preregistered ticket in order to take advantage of the presale.
You can purchase your tickets
by clicking on the "Buy tickets" button on the upper left column.
2. You must email me your order no later than midnight October 21.
3. You can only order games that are currently in print. You cannot order any games still on preorder on the publishers website. I want to emphasize this as every year we get people ordering games that are still on preorder.
4. Once you send me your order I will send you an email invoice. Payment is due at the time of receipt of this invoice. You can pay by mailing a personal check or via PayPal, or Venmo.
5. Your games will be available for pickup at FaTDoG 2016. If you would like to pick them up any earlier, you can make special arrangements with me.
The following companies are participating this year and their discounts are below:
Flying Pig                                      10% off
Tiny Battles                                  10% off
Columbia Games                         30% off
Legion Games                              40% off
Compass Games                          35% off
GMT Games                                 40% off
Revolution Games                       30% off
Victory Point Games                   15% off
Academy Games                          35% off with special pricing on Mare Nostrum – empires bundle at $85
Operational Studies Group       30% off
Decision Games                           10% off if the collective order is $100-$200,                                                                                                               20% off of the collective order is $201-$300,
                                                         30% off of the collective order is $301 or greater
This year we are happy to welcome Against the Odds magazine, Clash of Arms and High Flying Dice games who will be represented at the FaTDoG convention as vendors so their games will be available for direct purchase at FaTDoG.
In later postings I will be recommending some of my favorite games from these companies.
Let's try to support our publishers who have so generously supported us. Please give me your orders as soon as possible so that we can start processing them. It is a complex process to collate, invoice, order and receive shipment of these games. So please take mercy on our FaTDoG staff and get your orders in as soon as you can.
Thanks for all your support!
Harvey