By Gene Billingsley 
Hi guys!
I've been on the road for most of the past month, so haven't been as active as usual online on CSW, InsideGMT, and our social media venues. So I do have a few items of news to share with you guys today.
———
CSW Expo Rocks!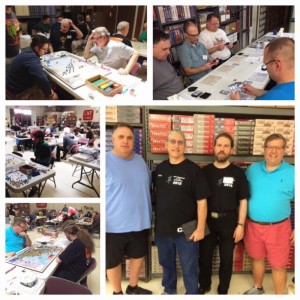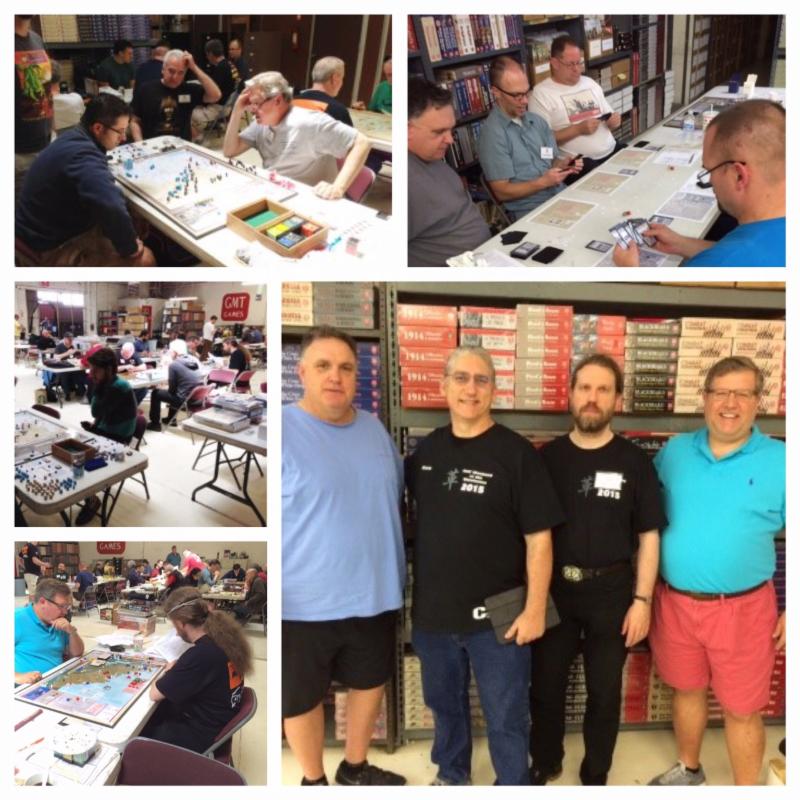 First off,  I have to say that John Kranz's Consimworld Expo is just an awesome experience every year. For me, I attend with my son Luke to a) play games with him and b) meet with a bunch of our designers and customers, evaluate new games they bring to the show, have a few strategy sessions, and host an "InsideGMT" seminar. (Starting my day off with breakfast with Chad, Kai, and a group of fellow gamers is a great beginning every morning!) This year John had the highest-ever attendance (over 300, I think) and it was great as always to see so many long-time friends and team members and meet some new ones.
A highlight for me this year was getting to spend time with Mark Herman, an old and dear friend who I hadn't seen face-to-face in almost fifteen years. And I got to meet Kevin McPartland (Conquest of Paradise designer) who I've worked with off and on for many years but had never actually met in person. That's often the nature of things here at GMT. We're a "virtual company" in many ways, with team members spread around the country and the world, and sometimes you'll work with a guy for many years across a variety of projects and realize one day that you've never actually met him! Anyway, CSW Expo was great! I hope you guys will all get a chance to attend at some point – it's a very cool week of gaming. Thanks John!
————
Mr. President

Some of you may have read a little about Mr. President on InsideGMT or seen a "hush-hush" prototype at a Weekend at the Warehouse, but probably most of you don't really know much about this project. So here's a bit more detail.
First off, this is the game I have always wanted to design. It'll probably be the game series I support (new expansions, etc) for the rest of my life. For the longest time I couldn't figure out how to design it, but a few years ago an approach started to come together. I shared my ideas with John Welch, a friend and designer who was very interested in helping with the project, and he assisted me with design suggestions, ideas for cards, and tons of layout and graphics support to get the game into a playable form. Several versions later, amidst the "on again, off again" nature of my design time when my GMT responsibilities always take priority, I finally have a version that is starting to play like that game I imagined so many years ago. And yes, I mean STARTING TO. I still have some issues to work out.
In a nutshell, this is a SOLITAIRE game about GOVERNING as the President of the United States. It's not another election game. It's about sitting in The Chair and trying to advance your agenda while navigating ongoing crises, political enemies, public opinion, your relations with Congress and the press, and keeping your country secure in a world of rival nations and agendas that just seems to keep blowing up around you. It's a resource management game, where you never have enough resources to achieve everything you want to, and the path you take through an always unpredictable storyline rests on the choices you make. Hopefully, if I do my job right, the choices will be agonizing enough to have you wondering "Why was it that I WANTED this job?" many times in each game.
Luke and I took the current version to CSW Expo, where we tested pretty rigorously for four days. Luke loves the game and has a keen eye for detail, so he has been a huge help to me as we examine and edit and try to get consolidate very complex world interactions into a system that is easy for players to use. Tom Switajeski helped us as well at the Expo and gave us a bunch of excellent feedback and ideas. I showed the game to Mark Herman (and he really liked it – that was a very good sign) as well as a few other designers and friends, and the feedback was universally positive, although the design still has a ways to go before I'm ready to hand it off to the developer. The "World Generator" part is working really well right now. It's the "Proactive Strategy" piece that still needs work.
I'll put together an InsideGMT article sometime soon to get you guys a more detailed look into the game, but for now I just wanted to let you know how it's going, and that it looks like we are now on a track where I could see this going onto the P500 list within 6-12 months or so.
Solitaire System for Fields of Despair!!!!
Guys, this is a BIG DEAL! Designer Kurt Keckley has done what I wasn't sure was possible: He has created a full-featured solitaire system for his Fields of Despair WWI BLOCK GAME design. Rather than take more space here, other than to tell you that I am REALLY EXCITED about it, I'll just let Kurt do the talking, as we are running a two-part article that describes the system in detail in InsideGMT. Here's the link to the first article. You'll see Part 2 go up on InsideGMT later this week.
Solitaire System for Fields of Despair – InsideGMT
Way to go, Kurt! Awesome job!
Thanks, as always, for your support of GMT!
Enjoy the games!
Gene