By GMT Staff
Hi guys!
Digital Twilight Struggle on Kickstarter
This Special Update is to give you some good news that we have come to an agreement with Playdek to create a digital version of Twilight Struggle (!), and to ask for your help in making it a reality.
I'll lay out the "why" and more of the story below, but for you guys who want "just the facts,"  here is the news in brief:
1. Playdek is working with us to create a multi-platform (PC, Mac, Linux, iOS, and Android) digital version of Twilight Struggle.
2. Our agreement is contingent on a successful 28-day Kickstarter campaign that begins TODAY.
3. Jason and Ananda have created some additional game content, which will be available in both digital and physical versions to Kickstarter supporters.
4. Here's the link to our Kickstarter page.
Twilight Struggle Digital Edition Kickstarter Page
Please go over there now, watch the video, check out the reward tiers, and help us get this done by pledging your support for this project.
5.  Given a successful Kickstarter program, Playdek anticipates that we'll have a game in your hands by February, 2015.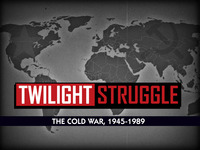 [So far, and this is just its first afternoon, this Kickstarter project has raised $47,000 out of a $50,000 goal from 894 people. That's one afternoon out of a 28 day campaign – Ed.]
Read more here